Tour Designer Maryam Nassir Zadeh's Noho Loft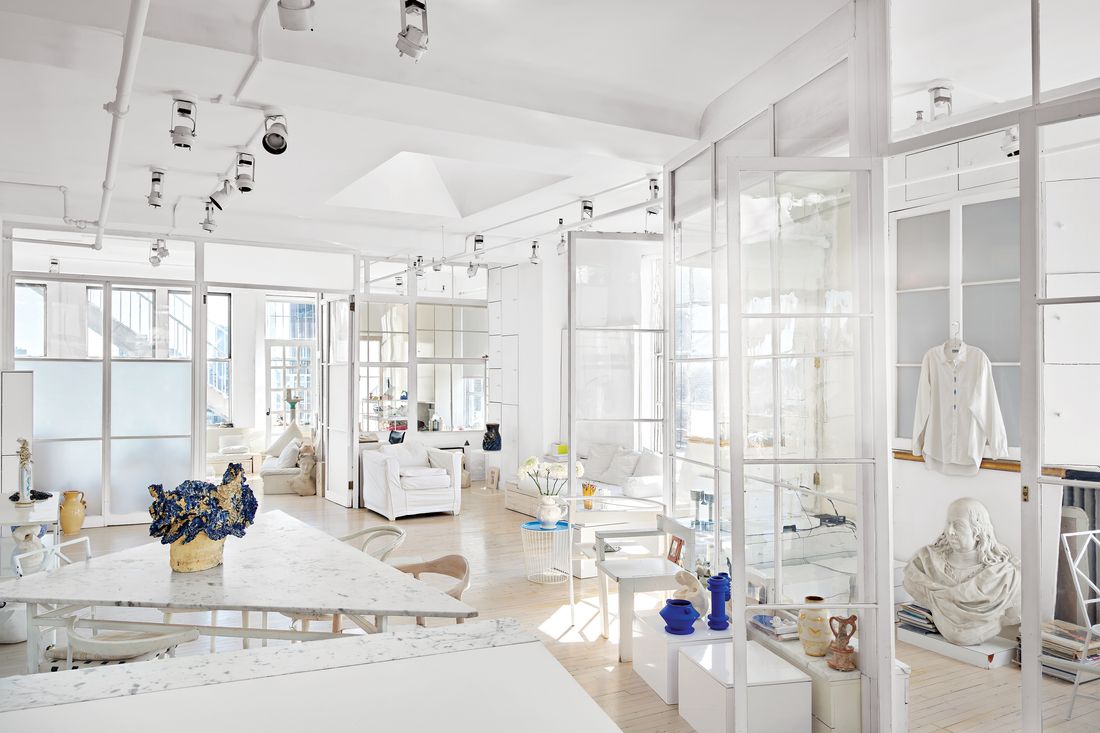 The Living Area: The apartment is almost entirely transparent. Glass doors close off Zadeh's bedroom at one end, and her office is to the right.
Photo: Thomas Loof/
Sometimes it looks like a crazy pigsty," fashion designer and boutique owner Maryam Nassir Zadeh admits, laughing, while standing in the bright white Noho loft that she and her two daughters, Anais, 11, and Lune, 9, have lived in for the past three years. "But that is life!"
This apartment might look familiar if you happen to be one of the thousands of people who follow her brand's Instagram, as she posts from it a lot. And why not? "It's one of a kind. I can't take credit for anything except moving in and my aesthetic touches," she says. The renovations started back in the late 1970s. "There are a lot of patterns of triangles," she notes, along with built-ins and storage nooks.
She was born in Tehran (her family left when she was 3 months old, around the time of the Iranian Revolution) and raised mostly in Calabasas, California. Zadeh attended RISD; moved back West, where she created a line of T-shirts in L.A. in 2002; then ended up in New York for a technical program in fashion at Parsons. In 2008, she and her then-husband opened her eponymous store on Norfolk Street.
"She had all the cool emerging designers on the New York scene, and I thought, She's kind of a miracle," says the fashion designer Andre Walker, who has sold at the boutique. In 2011, she started her own fashion line, which has become popular with a downtown community of artists, writers, and designers (Ottessa Moshfegh walked her latest show; Zadeh, in turn, walked the Eckhaus Latta show).
Zadeh found the loft, which is in a onetime sewing-machine factory, through a broker after the previous space she had been renting was sold. "You know how depressing that is," she says about having to pull up stakes. Then she saw this place. "I felt I was moving into my dream." (It turns out the renovation had been done by the loft's longtime owner, Knight Landesman, the ex-publisher of Art Forum who resigned after Me Too allegations.)
Her daughters share a bedroom, but their Barbie dolls and art materials spill out everywhere. "They have almost outgrown this place, and I've started looking," she says, "but this place gives me too much joy. We are working on becoming more minimal."
The Entry Hall: Zadeh at the threshold to the kitchen, which is directly beyond the front door.
Photo: Thomas Loof/
The Studio: This space is shared by Zadeh and the girls. All the flat files are used for storage and seating. The cat's name is Secret.
Photo: Thomas Loof/
The Children's Room: Anais and Lune share a skylit room with lots of built-in storage. A bathtub is hidden atop the platform at right.
Photo: Thomas Loof/