The Whimsical World of 'Euphoria' Nails Has Arrived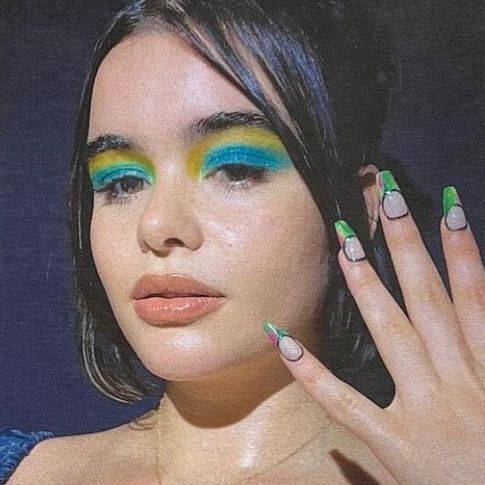 Barbie Ferreira
Photo: Natalie Minerva & Donni Davy
In the first episode of Euphoria's second season, Sydney Sweeney, a.k.a. Cassie, flashes her long, pink, bedazzled nails onscreen as she clenches the car seat on her way to a New Year's Eve party. Her nails — the work of Los Angeles nail artist Natalie Minerva, who was brought on this season to further develop the characters' looks — are just a teaser of the "much heavier presence of nail art" in the next season.
"The first season, there really wasn't much of that at all," says Minerva. "It was something that I had noticed, and so I reached out to the team about it because it's a Gen Z–based show and obviously beauty has such an important role in it. I felt like, Oh my gosh, they need nails, and I could be that person for them."
In 2019, Minerva became friends with Alexa Demie, who plays the fashion-forward Maddy. "She really pushed for me to be on the show," says Minerva. Doniella Davy, Euphoria's makeup-department head, agrees. "I do feel like Euphoria was a super-manifestation. It felt really aligned."
Minerva began seriously exploring nail art in college. "I really wanted cool nails, and I just couldn't afford to go to the Japanese nail salons quite yet," she says. She would coordinate her outfits along with nail designs. The hobby eventually became a career, and Minerva went on to open a salon in downtown Los Angeles called Nail Swag, which closed in September 2020 because of the pandemic after over four years in business. Today, Minerva has added her flair to the fingertips of Ariana Grande, whom she toured with for four years; Carmen Electra; Selena Gomez; and Snoop Dogg.
The process of conceptualizing and creating intricate designs is an experience Minerva describes as meditative.
"I've had some superspecial, deep, spiritual conversations with people that I will remember for the rest of my life in nail sessions," Minerva says, reflecting on clients who've grown into friends she spends time with regularly. "I don't think that happens a lot in jobs."
The Cut caught up with Minerva about Euphoria's manicure art in season two, the nail trends she's amped to see in 2022, and the special experience of working with friends.
The visual communication of a character's emotional state through their glam choices, or lack thereof, is definitely a signature of Euphoria. What kind of looks can we expect for characters in season two, like Cassie and Kat, played by Barbie Ferreira?
With Cassie, you're going to see a transition of sorts. We went for more classic and timeless nails but with a touch of flashiness. Cassie is a very feminine character, so we wanted to emphasize that in her nails.
With Kat, she's going to explore a lot of color, which I think is fun. We'll be seeing more bold and colorful designs on more modernized shapes, like the coffin shape. We took a lot of inspiration from nature for her sets.
Sydney Sweeney's nails for the first episode.
Photo: Natalie Minerva & Donni Davy
And what about Alexa's character, Maddy? The internet loved her makeup and fashion looks from season one, like the viral purple I.AM.GIA two-piece from the carnival in episode four or the blue eye shadow outlined in rhinestones in episode eight. How will her personality shine through her nails in season two?
It's very Y2K or early 2000s but spliced with modern touches. We were really exploratory with Maddy's nails. They're really fun. She's fierce. She's decisive. She knows what she wants always. She's two steps ahead of everybody else. So for the nails, I think it had to be fashion forward but at the same time have a bit of a throwback feel that's very clean.
You got to collaborate with your IRL friends Demie and Ferreira on Euphoria. Is it fun getting to work with friends?
It's very, very much collaborative. Alexa, for instance, is such an exploratory person when it comes to beauty and fashion. I don't feel like I have to ever hold back with her. I can propose something really kooky, and she'll be like, "Oh my God, wait, I like it."
Barbie, too, actually — we're really in sync. I'll bring something to the table and she'll be like, "Oh my God, that's exactly what I was thinking" or vice versa. It feels a bit serendipitous.
The nails of Kathrine Narducci, who plays Fez's grandmother in the second season.
Photo: Natalie Minerva & Donni Davy
Which nail trends are you excited about for 2022?
Right now, everyone's living the fantasy. It's a lot of 3-D, almost borderline grotesque and beautiful at the same time. It's really cool because I've never seen nail art go in that direction. There are lots of different textures and gels that do cool things like the cat-eye gel and holographic chrome.
For French manicures, instead of it being the standard pink and white, I think we're going to see even more color combinations. It's so fun to do what I call a French twist: taking something classic and modernizing it. I did the disco-ball nail in a French, too, and that was really cute.
I've also been seeing a lot more of the almond shape coming back into play, which I personally think is the best shape. I find it to be the most flattering on people, and it elongates the hands. It's so classic and timeless. You cannot go wrong with an almond shape. I have it on right now.
But it depends on what kind of look you're going for. Do you want something that's kind of more early 2000s, Y2K? Then you would want to go square and kind of thick. If you want to feel a little bit more like '50s, '60s, even '70s, I would say go almond.
A close-up of Ferreira's nails.
Photo: Natalie Minerva & Donni Davy
Who are some people that come to mind when you think of nails you're a fan of?
Aureta always has incredible nails. I'm surrounded by so many amazing nail artists. Astro Wifey is one of them. My favorite nail artist is in Japan, and her name is nail D.O.G. She can paint any anime on a nail. I'm not even talking about one character. I'm talking about a whole scene. It's incredible; I've never seen anything like it in my life. And then Britney TOKYO, who is an old colleague of mine, and we actually did a gel line together.
In terms of classic celebrities, I would have to say Barbra Streisand because she's been known to have long, beautiful, natural nails.
Something I've heard in L.A. numerous times is the saying, "You can tell a lot about a person by their nails, especially if their nail polish is chipping away." As a nail artist, do you think that's accurate, or do you think it's not that deep?
I mean, sure. I think that people who are on top of their nail art, they care about their — I don't want to say appearance because it's not that. It's more so like they're on top of their self-care. I think that's great. But at the same time, I also don't take it that seriously because, for instance, I know when I'm busy, my nails suffer.
Also it's been a really crazy last two years. So I don't judge on that because people all the time, especially on set and stuff, they're like, "Oh, don't look at my nails. They're horrible right now." I'm like, "I promise you, I'm not judging, and I really don't care," because at the end of the day, I know that you're working your ass off right now. And I mean, life happens.
Nails worn by Alexa Demie (Maddy).
Photo: Natalie Minerva & Donni Davy