Restaurant Patrons Hurl Glasses, Furniture After Man Starts Fight Over Bill
A customer's anger over his bill at a Texas restaurant erupted into an all-out brawl captured on video last week.
The 30-year-old patron started arguing with staff at the Republic of Texas restaurant on San Antonio's River Walk on Friday. He claimed to be "upset over the service he received from the staff regarding the food and bill," said a report from the San Antonio Police Department.
The argument turned physical as the customer began throwing fists at multiple staff members, police said. A video with 225,000 views on Twitter showed the fight escalating on the River Walk patio, with several people throwing fists and restaurant furniture amid the screams of stunned onlookers.
In a clip taken closer to the altercation, a man hurled a glass filled with liquid at another person, then beat him with what looked like a folding tray stand. Other people scrambled away from the fight, as a woman off-camera yelled "Go to the side, go to the side." Another bystander picked up his dog to carry it away from the scene.
Meanwhile, a river barge full of people taking a boat tour stopped directly in front of the restaurant to witness the brawl. Every head was turned toward the fight, with a few passengers holding up their phones to record footage.
San Antonio police officers finally ran onto the scene and tackled several people to the ground. The suspect injured one restaurant staff member, police said. He was arrested on charges of assault and bodily injury.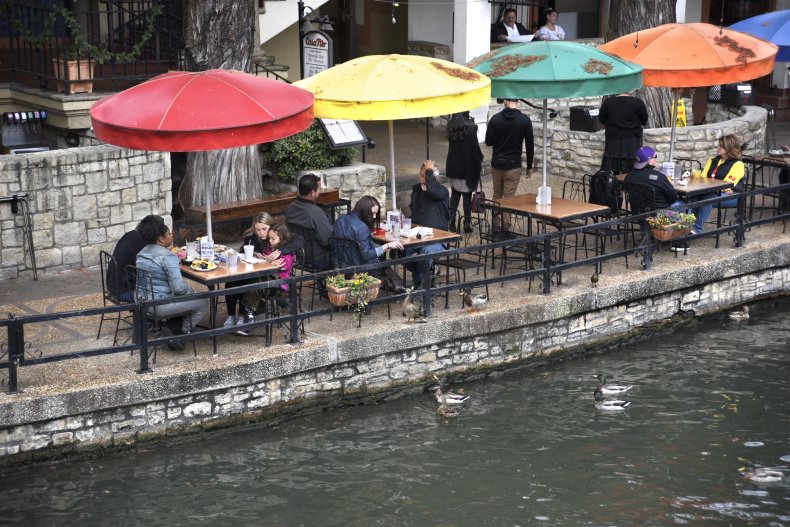 The Republic of Texas has indicated online that it is suffering from staff shortages. "Unfortunately due to lack of staff we are not currently taking reservations," said a note on its website.
Restaurants have continued to struggle with staffing since the industry was ravaged by the COVID-19 pandemic. Although the workforce is slowly recovering, eating and drinking establishments were still down 750,000 jobs in May—or 6.1 percent—from pre-pandemic levels, according to the National Restaurant Association.
Restaurant workers have cited difficult customers and managers among their driving motivations to leave the profession. In a 2021 survey from Black Box Intelligence, 62 percent of workers reported receiving emotional abuse and disrespect from their customers, while 49 percent reported abuse from managers.
Employees in food service quit their jobs at a rate of 5.7 percent in May, more than double the national average rate of 2.8 percent, according to the Bureau of Labor Statistics.
Newsweek reached out to the Republic of Texas restaurant for comment.