Nail Fashion – Try these nail art options this summer season done by the best salons in the city
From playful neons to fresh florals, baby pinks and electric blues, this summer The Telegraph brings you the best in nail fashion, from salons across the city. We browsed through the work of some the choicest nail destinations and hand-picked a few of their styles that should definitely be on your beauty to-do list this season. Here's getting you a look book!
Real Dried Flower Nails @ Bridgette Jones Fashion Salon
Adorn your nails with real dried flowers encapsulated in clear gel polish. This style works with a wide range of nail lengths. You can choose from a variety of colourful real dried flowers to go with your mood or an outfit.
Address: 78B Sarat Bose Road, Vinayak Building
Contact: 9831288823
Pocket pinch: Rs 2,000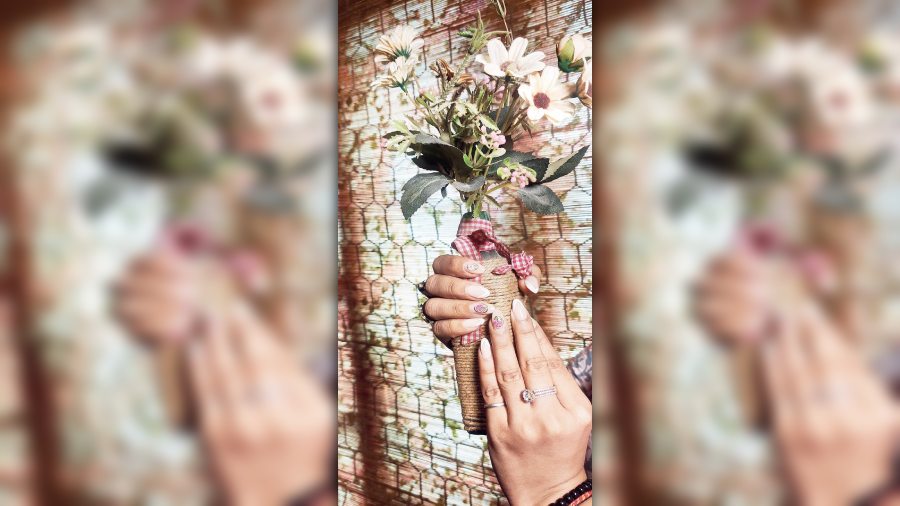 Floral French Manicure @ Invogue salon and nail bar
This intricate design itself takes over an hour to complete. The floral motifs are accentuated with bright white French tips with golden accents. The colours are fresh and striking and this one's definitely going to get people talking about your nail game being on fleek.
Address: 49C Purna Das Road, 1st floor
Contact: 830246789/ 8582967073
Pocket pinch: Rs 2,500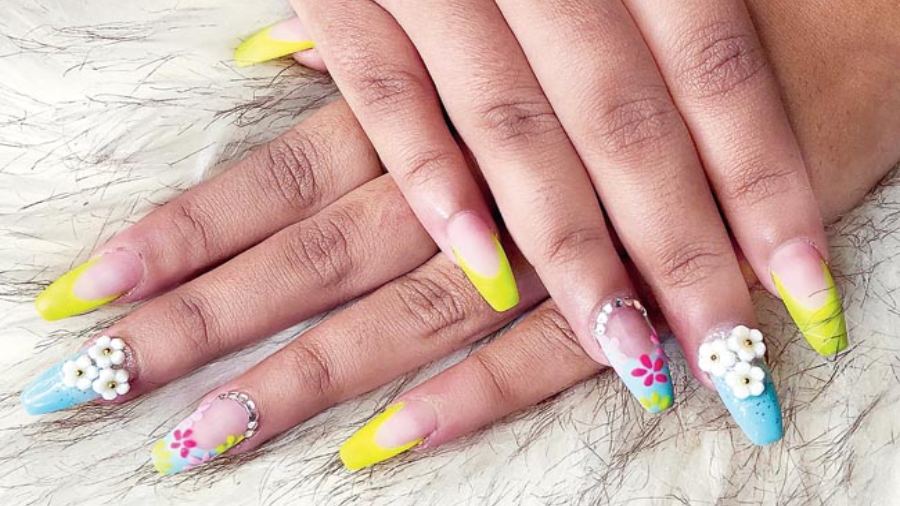 Neon Garden @ Kristal The Beauty Lounge
If you want to go all out with some bold and bright colours then this nail look is just what you need. Not only does it have 3D design with neon blues, greens and pinks, it also has 3D accessories glued on to the gel nail base for that added depth. We love the quirky feel.
Address: 3B Loudon Street
Contact: 9903603231
Pocket pinch: Gel nail extensions at Rs 2,200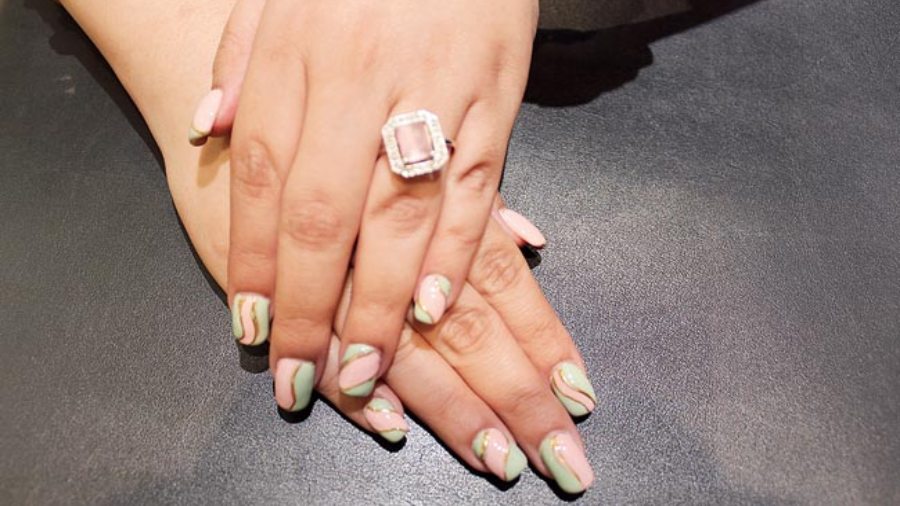 Candy Yum Yum @FTV Salon & Café
Light and summery baby pink and mint green take us to candy land with this bubblegum-inspired nail look. The golden accents add a bit of sparkle and alleviate the overall look and feel of the design.
Address: 22 Camac Street, Block B, Ground floor
Contact: 7208007226
Pocket pinch: Rs 1,000 for gel nails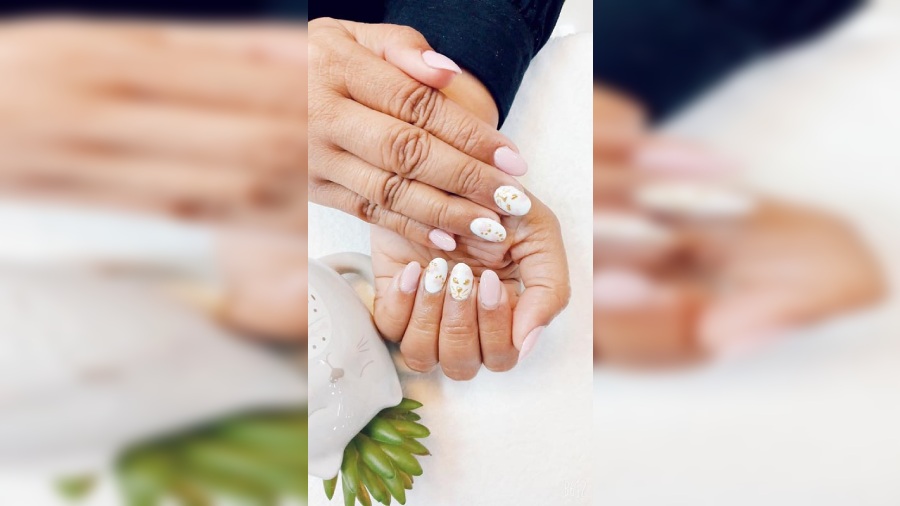 Cute Kitty Style @ Elan Ladies Beauty Salon
Make your nails pop up with an easy cool summer gel colour. A gel nail extension is an easy way to make your nail colour and design last. This cute three dimensional kitty style is for the fun loving female who's not afraid to experiment.
Address : 71,Vinoba Bhave Road (James Long Sarani, near Taratala), kolkata -700038
Phone number :9903992858
Pocket pinch: nail extension price Rs 1,500, design Rs 500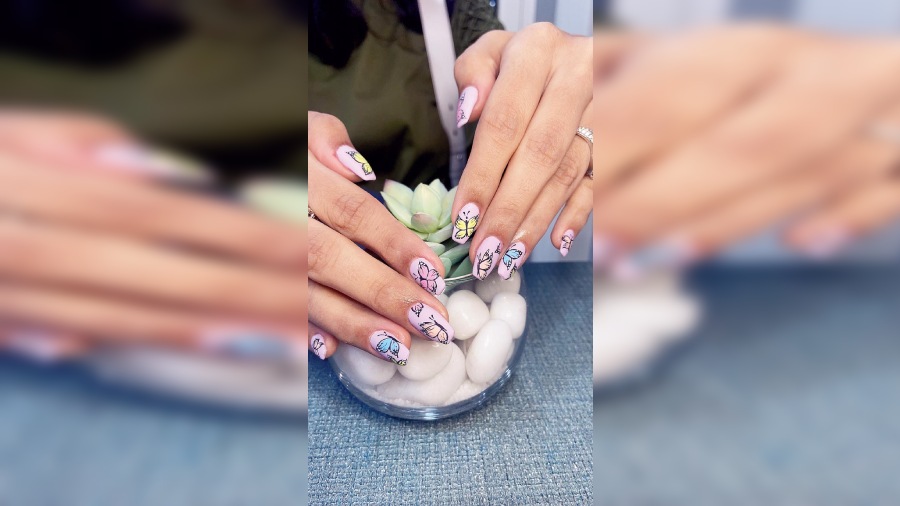 The Butterfly Garden @The Nail Box by Punam Sunam
March into spring with butterflies. The design is created on gel extensions with lilac base color, each colourful butterfly is hand-painted and finished with a matte coat. It's seasonal, it's delicate and the colours are just what the beauty police ordered. We love!
Address: -71/A Hazra Road
Phone number: -8100433397
Pocket pinch: Rs 4,000 (approximately)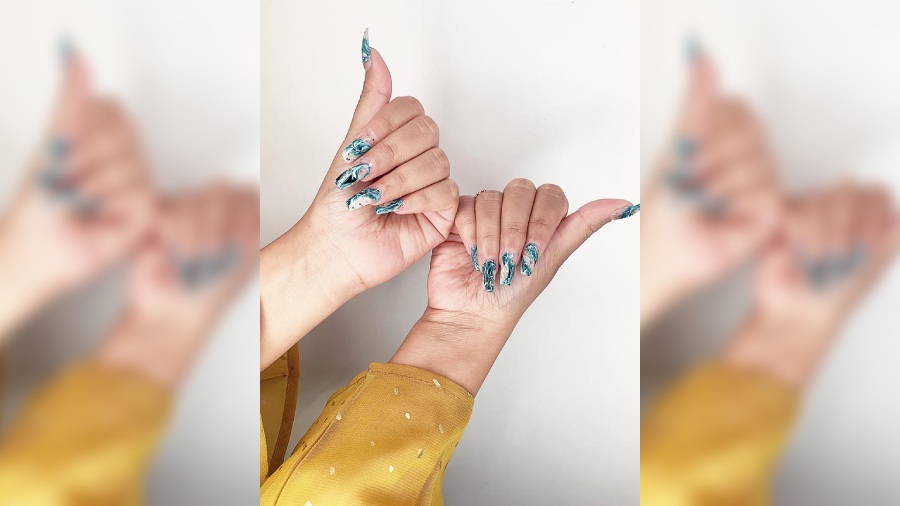 Mermaid Tales @ Posh
Take on the garb of a marine siren with these bomb blueish-green mermaid nails with golden accents. The marble texture adds oomph to the look and trust us, this look isn't for the faint-hearted. Bold, beautiful and breathtaking, we say!
Address: 9, Hungerford Street
Contact: 8583962188
Pocket pinch: Starting at Rs 2,500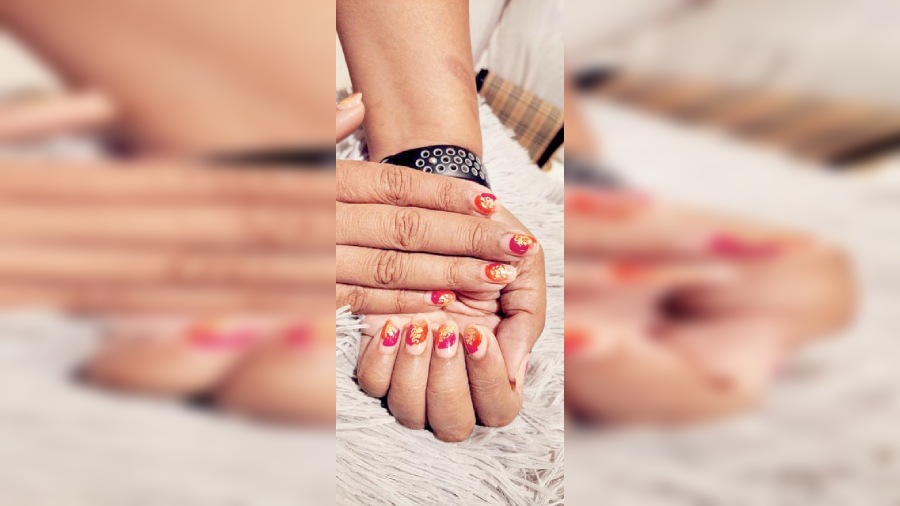 Fiery Summer Sunset @ Mishka's Luxury Beauty
While summer is all about keeping it fresh and light, these super fiery nails capture the true essence of a summer sunset with their bold shades of red and orange along with a generous dusting of gold foil as well. Classy and sassy, these nails will instantly brighten any evening look for sure.
Address: 22 Park Street
Contact: 93307 53497
Pocket pinch: Nail extensions Rs 1,650 onwards and gel polish Rs 700 onwards