Designer Cheyenne Concepcion Reclaims the Peacock Chair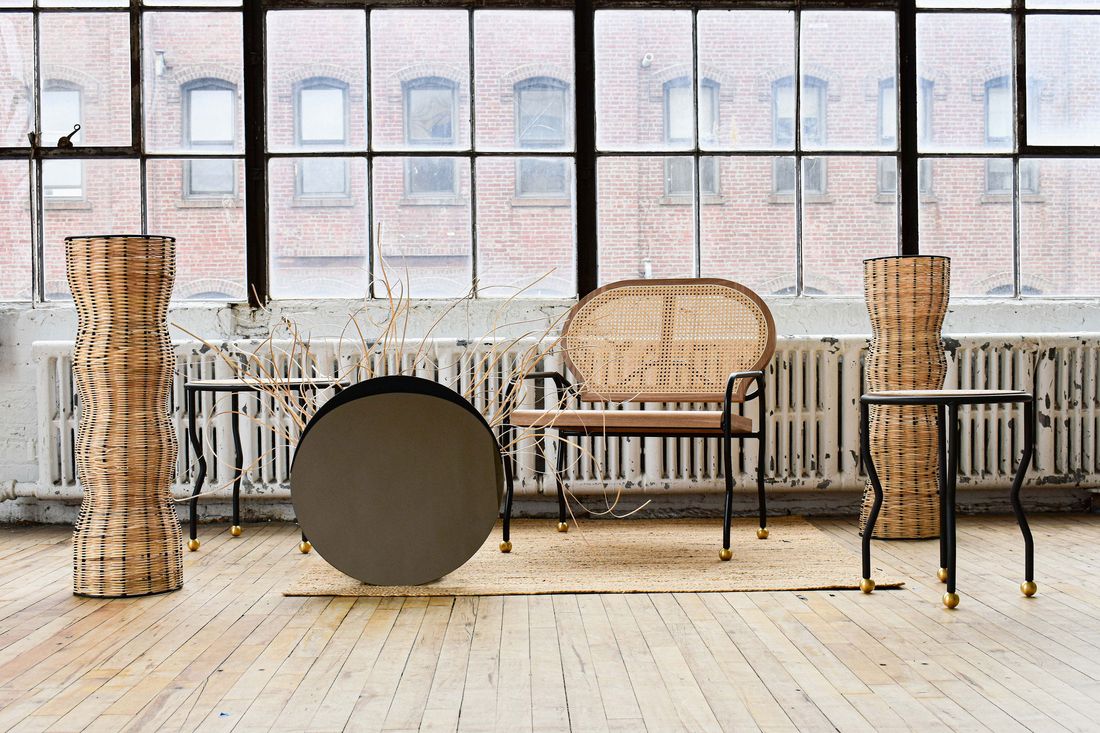 "This is one of the most famous chairs in the world, and it's so disconnected from its original heritage," says Cheyenne Concepcion, a Filipino American artist who examines cultural memory and migration through installation, design, and public art. She's talking about the Peacock chair, the woven-rattan seat with a high, round back that has appeared on dozens of album covers, in the most famous portrait of Black Panther Party co-founder Huey Newton, and in countless "boho chic" interiors. Concepcion accidentally came across the history of the chair while researching the architecture of the 1915 Panama-Pacific International Exposition. While it is widely recognized, the chair's history is less known: It originated at the Bilibid Prison in Manila, where it was made by incarcerated people in the early 1900s. "I literally just stopped in my tracks," she says. "This was such a strong cultural symbol. How could I not know about its history?" As a graduate landscape-architecture student, she had been looking for historical references to guide her as a designer but hadn't yet come across anything with deep personal resonance. With the Peacock chair, "I knew I had to do something with it," she says. "It felt like something to hold onto, and I let it pull me." Her new furniture collection Reclaim, which she launched at WantedDesign last weekend, shows the early results of that inquiry.
Basketry has long been a national symbol in the Philippines, where a rich history of Indigenous craft led to domestic items, carrying containers, and ritualistic objects made from woven rattan and bamboo. But the rise of rattan furniture was a product of American colonialism in the country, which spanned between 1899 to 1946. At that time, the colonial government framed its management of the Prison as a benevolent, civilizing mission, and those who were incarcerated there were put to work in "rehabilitation" programs. One of them was making rattan furniture — including tables, chairs, lamps, shelves, sofas, and stools — that the prison sold and marketed as "smart and serviceable." At the exposition, the chair's appearance captured attention from the press and store buyers. When the chair arrived in the United States, it became an exotic symbol of fictional royalty. "Like a throne chair, one imagines a chieftain sitting here in all his regal splendor of painted skin and beads under palm trees," read a 1914 American Homes and Gardens article. An El Paso Herald image from 1914 titled "A Jail Bird In A Peacock Chair," shows a woman in a striped dress, captioned as "a convict … seen enthroned in a majestic peacock chair," holding a baby in one.
An El Paso Herald story from 1914 describes the Peacock chair's "beautiful back" and how it's made from bamboo, "a light pliant wood which the artful Filipinos use with great dexterity in the manufacture of furniture."
Graphic: Cheyenne Concepcion
To Concepcion, the Peacock chair is an expressly Filipino American design, and that link to an obscured cultural history is what drives her collection. Her ambitions for her practice are greater than any single piece of furniture, though. "To me, it's about more than designing a collection; I'm inventing a style," she says. "Within Asian culture, there is a hierarchy of whose history gets recognized, who gets to have cultural heritage, and who gets to sponsor diplomatic engagement because of their cultural heritage. The Philippines has been left out of that. Because of colonization and assimilation, there has been a loss of a direct connection between our Indigenous past and where we are today. My dream is to bring visibility to our story."
The Doña Lounge Chair.
Photo: Cheyenne Concepcion
"The Peacock chair is characterized by this amazing archetypal hourglass shape. It's very erect and upright. It's more of a prop than an actual chair you sit in, and it has been used that way throughout history. I wanted to bring the design into modernity. I lowered the chair, relaxed the posture, and expanded the material palette with wood, brass, and steel. The collection is also autobiographical — I was raised by women and wanted to celebrate femininity. To me, the Peacock chair means royalty, power, and presence. I wanted to bring in this idea of a chair for a queen or a chair for a matriarch, so I added the brass balls to have a more feminine touch. After it was built, I thought, These are like cute shoes on my furniture!"
The Coco Nesting Set.
Photo: Cheyenne Concepcion
"I wanted to fit these pieces in my apartment, so I made nesting stools. The Peacock chair's hourglass shape is also reflected in their powder-coated steel legs. Culturally, I'm American. I'm from California, which has such a strong design history. There's a nod to California modernism, which to me is about simplified steel geometry. The Peacock chair became something else when it arrived in San Francisco. It became about a king and queen in Southeast Asia. I'm starting at this moment and making a leap of logic. There is some speculation and fantasy involved in where that history ends and where a new Filipino American design style can begin."
The Lolo Mirror.
Photo: Cheyenne Concepcion
"This bronze-tinted smoked mirror is inspired by my grandpa, who was an avid stargazer. He died when I was younger, and that is my memory of him. This was a real experiment for me. I made a 'cane sandwich' mounted between the metal piece I CNC'd and the wood backing. It's a tropical vibe."
The Anak Totems.
Photo: Cheyenne Concepcion
"I'm calling these totemic sculptures. They're made with bent metal wire that I powder-coated black. Then I wove caning through the frame. I love cane as a material. I was inspired by Philippine basketry presented in the 1915 Panama Pacific exhibition. I want to keep experimenting with these materials and pushing this meeting of steel and cane as a design application. I don't think it ends with this collection."