Could this fashion trend boost your mood?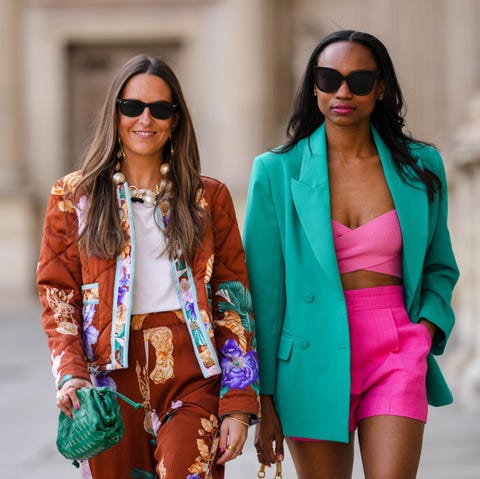 Edward BerthelotGetty Images
Dopamine dressing is the fashion trend we're seeing all over social media this season, with fashion editors, influencers and celebrities alike embracing colour in their wardrobes.
The concept is simple: wearing bright and colourful clothing can help to boost your mood and confidence. While the idea of dopamine dressing isn't new, after spending the better part of two years in loungewear we've seen a revival of the playful fashion trend this year. Pinterest predicted it to be one of the biggest trends in 2022, while online personal styling service Stitch Fix UK found over a third of British people say wearing bright colours actually does boost their mood.
"People are certainly realising how clothes can be used as a tool to elicit lifts in mood. In fact, Stitch Fix's research revealed that almost half of us (48%) experience an improved mood just by wearing an outfit we feel confident in," says Shakaila Forbes-Bell, fashion psychologist and founder of Fashion is Psychology.
Since early spring, we've spotted fashion influencers like Erica Davies and Megan Ellaby embracing the fun trend on Instagram, while celebrities such as Blake Lively and Anne Hathaway have stepped out in mood-boosting outfits. Plus, high street brands like Mango and Zara have injected colour into their offerings. It seems colour is here, and it's here to stay.
So, does wearing colour really boost your wellbeing? "Wearing bright colours such as yellow, red, pink and blue come with genuine psychological and physiological benefits, too," Shakaila explains. "Red and yellow, for example, have been found to increase blood pressure, heart rate and eye movement, causing us to feel more alert, aroused, stimulated and energetic. Blue, by comparison, produces calming bodily responses, making us feel more relaxed and serene."
"When you wear something you love that holds symbolic value, your confidence increases and you feel happy, too," says Shakaila. "That happiness stems from a neurotransmitter called Dopamine that meditates in the brain – when it's released, we experience feelings like pleasure, motivation and satisfaction."
That doesn't mean you have to go all out with a bright pink matching tailored suit (although if you do fancy that, we love Me+Em's pinstripe version). You can still get in on the trend by injecting a mood-boosting colour into your otherwise neutral wardrobe. Here, Shakaila shares with us her top tips for embracing the trend.
How to embrace dopamine dressing
Acknowledge the feelings you associate with specific colours

"An easy way to get over that fear people have with colour is actually acknowledging the things you associate with specific colours," explains Shakaila "For instance, Stitch Fix's research revealed that a quarter of us associate pink with playfulness, whilst one in five associate yellow with optimism. I may associate purple with joy, accomplishment and success because I have my own associations with purple – or it might remind me of a family member or particular time in my life."
Shakaila adds: "This encourages us to embody personal feelings and associations, giving us the boost to wear them in our everyday lives as opposed to being bound by the monochromes in our wardrobe – the blacks, the beiges and the greys. It's really about how you feel and using your clothes to improve your mood. And then anything that comes out of that is a bonus."
Start with accessories
"Accessories are a great place to start for being more creative and playful, as well as expressing your tastes and personal associations with colour without (feeling) so invasive," explains Shakaila. "They can really transform a minimalist outfit to something that's more unique and reflective of your personality.
"If you don't want to go all-out red right away, a red bag or accessory – a pop of purple or orange here and there – can really go a long way in easing you into embodying the positive traits you associate with those colours."
Experiment with colours
Dopamine dressing is all about having fun with colour, so don't be afraid to experiment and try something new – whether you opt for primary colours, block colours or add a pastel-hue to your look.
"As we switch our coats for light cardigans and our turtlenecks for tanks, this seasonal shift presents the perfect opportunity to embrace a more vibrant colour palette with new season style," says Katie Eastwood, Stylist Ambassador at Stitch Fix UK.
"We're moving away from outdated rules of what you can and can't wear and starting to develop a more personal relationship with our clothing," Shakaila adds. "If you feel like a combination of blue, orange and yellow is going to elicit positive feelings, then who's to stop you from doing it?"
Shop our edit of the best new-in fashion to inject more colour into your wardrobe
We'll definitely be adding more colour to our summer capsule wardrobes this year.
---
This content is created and maintained by a third party, and imported onto this page to help users provide their email addresses. You may be able to find more information about this and similar content at piano.io