9 Noteworthy London Fashion Week Moments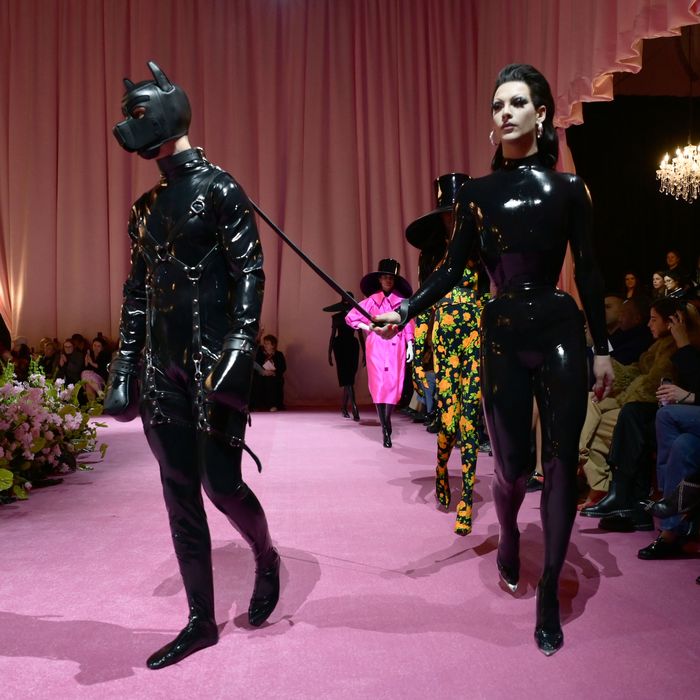 Photo: Gareth Cattermole/Getty Images for BFC/Courtesy of Richard Quinn
London is home to plenty of big name brands. You've got your Burberrys, your Victoria Beckhams, your J.W. Andersons — the list goes on. But what the city is really known for is being an incubator for young talent, and with those three brands in particular absent from the calendar this season, the new kids really had their chance to shine.
Central Saint Martins is, of course, where many of these budding designers begin their careers. Alums like Simone Rocha, Molly Goddard, and Richard Quinn continued to show strong collections. But Priya Ahluwalia and Maximilian Davis also emerged as ones to watch, and their shows brought some energy an otherwise gloomy week. Below, nine standout moments from the fall 2022 shows.
Photo-Illustration: by The Cut; Photos: Courtesy of Ahluwalia
Priya Ahluwalia is an exciting new name on the London Fashion Week calendar. Since launching her brand in 2018, she won the LVMH prize in 2020 (it was distributed evenly among all the finalists that year, due to the pandemic), and recently collaborated with Ganni on an upcycled collection. In the past, her work has drawn inspiration from her dual Indian-Nigerian heritage, and this season, she blended the two with references to both Bollywood and Nollywood films. A satin, one-shoulder fuchsia top, for example, emulates a sari she saw in a Bollywood romance, and a short, tie-dye ruched dress draws upon the sex appeal she saw in a Nollywood film. The combined effect was colorful and energetic, and provided a welcome, more optimistic jolt to an otherwise gloomy week. — Emilia Petrarca
Photo: Courtesy of Vivienne Westwood
The words "give the people what they want!" pulsed through my brain as I toured the Vivienne Westwood showroom in London. And what is that, you ask? Corsets, lots of them. Westwood's iconic corsets, which she debuted in the '70s and reissued in 2019, have had a resurgence in the last couple of years. So much so that when 100 teens were polled last year about what they were buying, the most popular style of top was a corset. The collection also featured other sharp pieces alongside notes outlining the brand's sustainable practices, like a pencil dress made from leftover fabric from other seasons, as well as tartan jackets and pants made with mulesing-free wool. — Joanna Nikas
Photo-Illustration: by The Cut; Photos: Courtesy of Molly Goddard
Molly Goddard was a real family affair this season. Her infant son, Frank, was front row and the collection was inspired by her mother's best friend, who Goddard says was a "central" character in the Portobello social scene in the '80s and '90s. "I would describe her from what I can remember as a cross between Marilyn Monroe and Mick Jones," she wrote in the show notes. "Big bleached blonde hair with a flower in it, red lipstick, a '50s dress with an army jacket and trainers." Goddard's sister, Alice styled the collection, which took a more casual, daytime approach to the brand's signature ruffled party looks. Dresses and skirts were lined with cotton and sweaters hung low, below the "bum," as the Brits say, to create a more relaxed silhouette. Goddard also introduced some shredded denim and canvas looks as well, building upon her youthful and eccentric aesthetic, but making it a bit thriftier. — E.P.
Photo: Gareth Cattermole/Getty Images for BFC
Richard Quinn knows How to Make a Statement. In the span of about 20 minutes Violet Chachki of RuPaul's Drag Race walked a gimp down the runway; a string quartet and a choir sang Olivia Rodrigo's "Traitor" and Lila Moss, Kate Moss's daughter, showed up as a bride. And we aren't even talking about the clothes yet. The collection, which was basically couture, featured variations on the voluminous coats he is known for — worn with hats that covered most of the models' faces, leaving two eye holes for them to navigate around the string quartet. There were also floral gowns, paired with latex gloves, and a very bulbous pant suit. I don't know who would wear some of the pieces, but that seems to be besides the point. — J.N.
Photo: Courtesy of 16 Arlington
At 16 Arlington a moving collection titled "Tears" was a tribute to designer Marco Capaldo's partner, Federica a.k.a. Kikka Cavaneti, who died at the age of 28. The collection started out with white, angelic looks and built into what was a beautiful progression of color, featuring baby-blue sequin gowns, brown leather miniskirts, and iridescent flared pants. Many of the looks featured feathers that had been dyed by Cavaneti. Recordings of her voice played overhead, filling the space, as her friends and family hugged in the front row. The most moving moment at London Fashion Week by far. — J.N.
Photo-Illustration: by The Cut; Photos: Courtesy of Simone Rocha
If Simone Rocha seemed darker, more intense than usual this season, it wasn't just the gloomy London weather talking — this was by design. Rocha was inspired by a fable she heard growing up in Ireland in which the four daughters and sons of an Irish king are turned into swans by a jealous stepmother. Doomed to remain birds for nine hundred years, they traverse across three different lakes, and when they finally return to human form, they die. Just some light material for a fashion show. Subtle swan references could be found throughout the collection, including outerwear with layers of plumage underneath; bedazzled balaclavas that framed the wearers' beaks; and strong beauty looks around the eyes. There were also metaphorical "blood lines" scribbled across quilted shawls. Some lightness could be found in the form of what Rocha describes brilliantly as "bitter sequins." And she showed more skin than usual with knit short shorts and sheer panels. What caught my eye, though, was the introduction of a new color: blue velvet. — E.P.
Photo-Illustration: by The Cut; Photos: Courtesy of Erdem
Erdem Moralıoğlu was also in a mood this season, but rather than a dark fairy tale, he took inspiration from the underground, specifically the club scenes of the early 1930s in Berlin, Vienna, and Paris. This was a period between WWI and WWII, when women were exploring the bounds of gender and identity. It was a time of experimentation, or "high jinks on the brink of change," as the show notes read. So, in other words, a vibe shift. The collection drew from silhouettes of the period, with thick fringe panels and slender sequin scarves, plus looks that blended womenswear and menswear. But, true to Erdem form, it was rich in detail, and felt more intellectual and sharper than past collections, which leaned more heavily on florals. Despite being inspired by a period of time almost 100 years ago, the energy of the show also felt eerily relevant. "Whispers of war are looming once again, but we don't talk about that down here," the show notes read. — E.P.
Photo: Courtesy of Maximilian Davis
Maximilian Davis of the namesake brand showed 25 engaging looks as part of the show for Fashion East, a nonprofit collective for emerging designers based in East London. This is a big season for the 26-year-old, who once worked as a junior designer for Grace Wales Bonner — he's up for the LVMH young designers award being presented in March later this month. The looks included a sheer hooded gown, a corset dress with attached sleeves and sharp tailored suits. Can't wait to see what he does next. — J.N.
Photo-Illustration: by The Cut; Photos: Ben Broomfield/Courtesy of Regina Pyo
Designer Rejina Pyo understands how women want to dress today, and showcased that in over 36 smart looks shown on Monday night. The clothes were paraded around guests seated at tables inside a restaurant — inspired by Prohibition-era American supper clubs — as Pyo wanted the looks to be seen in a setting where they could also be worn. The looks included roomy trenches, paired with slouchy knee-high boots; boxy suits and mid-length dresses. Basically, my dream wardrobe, supper club or not. — J.N.
Photo: Ben Broomfield/Courtesy of Regina Pyo